Honda Insight: Best Features You Should Know About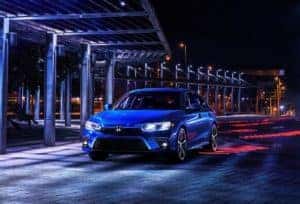 If you have seen the Honda Insight, Honda's current flagship sedan, you'll know it's the successor of the ever-popular Honda Civic Hybrid. You'll recognize the familiar shape and style in this newest iteration of the Insight. The car has certainly come a long way from its original submission, known for its Integrated Motor Assist System.
The first-gen Insight was the first model of its kind to have this advanced system, together with a 67-hp engine and a fuel economy rating of 64 MPG.
Despite taking a hiatus after the 2014 model, the Honda Insight found its way back into the limelight in 2018, and the latest 2022 model is now considered a Toyota Prius killer.
Sporting the same amazing design as their 2018 model with some minor changes, the Honda Insight comes in an iconic exterior shape, a sleeker and quieter interior, and, more importantly, a better fuel economy rating.
If you want to know more about the Honda Insight, read on as Formula Honda, your trusted Honda dealership in Toronto shares more info on this model's features:
Capable Powertrain and Excellent Fuel Economy
One of the best features of the Honda Insight is its fuel economy, which is all thanks to its amazing powertrain. It comes with a 1.5 litre inline – 4 gas engine, delivering 107 horsepower at 6000 RPM and 99 lb. -ft of torque at 5000 RPM. Because the engine is small, it's more economical.
The electric end of this car boasts an AC Synchronous Permanent Magnet Electric Motor, which can make 129 horsepower at 4000 to 8000 RPM range.
It is worth noting that the two available trims come with two different EPA ratings, too, with the Insight EX delivering about 55 MPG in the city and 49 MPG on the highway, making it one of the best in its category. Its high-end trim, the Touring, on the other hand, makes 51 MPG in the city and 45 MPG on the highway.
Smooth Driving Experience
This car offers a truly comfortable ride thanks to its MacPherson strut front suspension and its multi-link rear suspension, both of which feel quite swift. The Honda Insight can adapt to various road conditions and delivers an overall smooth ride quality. No, it is not a sports car, but you can hardly tell it isn't by the way it drives. Direction changes are quick, and even on bumpy roads, you won't get anything less than a smooth ride. Additionally, steering is both well-balanced and intuitive, while the ventilated disc brakes perform well at keeping the horses in check.
Same Spectacular Design as Its Predecessor
You can't deny that the design of the Honda Insight has truly evolved into a true beauty. Its 2022 model keeps that elegant exterior we have seen from its 2018 model, with rounded-off edges and well-defined lines. It is the perfect blend of elegant and athletic. Its air ducts, grille, and modern LED headlights look sleek, while its alloy wheels and side panels give the car a tougher look.
Conclusion
The new Honda Insight will still give you a performance to remember, coupled with a fuel economy rating that you can't find anywhere else. The 2018 model was already a joy to drive, and this new one promises to be even better.
Like with other models, make sure you buy a pre-owned Honda or a new one from a trusted dealership like Formula Honda.
If you are looking for a fuel-efficient car that can handle your daily commute and has the power to keep up with your weekend drives, then be sure to check out our new and certified pre-owned Hondas from our Toronto Honda dealership. Formula Honda makes it easy for you to find the Honda model that you want as well as the state-of-the-art services your vehicle needs. Check out our available models today!