About Us
Welcome to Formula Honda
---
Are you looking for a Toronto Honda dealership with a proven track record of selling quality vehicles, delivering excellent customer service, and providing state-of-the-art maintenance and repairs?
When you come to Formula Honda, that's exactly what you'll get—each and every time. Since 1987, we've been the chosen dealership for drivers in Scarborough, Markham, Pickering, Vaughan, and Richmond Hill, and we look forward to continuing to serve these communities for many years to come.
At our dealership, you'll find the entire lineup of new Hondas in stock, including top-selling models like the Honda Civic, Honda CR-V, Honda Pilot, and Honda Accord. If you'd rather buy a used vehicle, then have a look at our impressive inventory of used and certified pre-owned vehicles.
When you shop with us, you're guaranteed a personalized and helpful experience at every step of the way. Over four out of five people on our staff have been with us for more than a decade, a sign of a healthy and friendly culture that comes through in everything we do. In fact, we even have Chinese and Tamil speakers on staff to make sure we're able to help as many of our shoppers as possible.
Toronto has one of the highest Tamil-speaking communities outside of Asia, making up over 4% of the entire population of the city. With the highest concentration of the Tamil community calling Rouge Valley home our team has had the pleasure of experiencing many aspects of Tamil culture.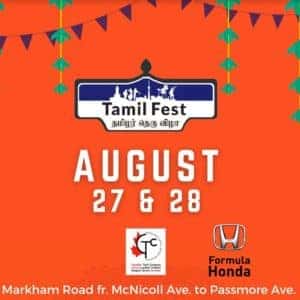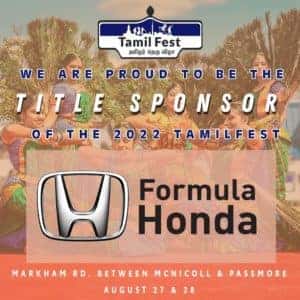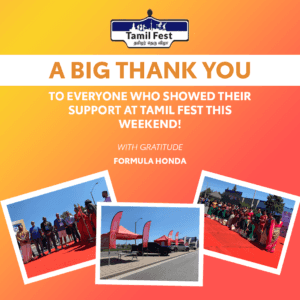 That's why we're proud to announce we'll be serving as one of the Title Sponsors for this year's Tamil Fest, taking place on August 27th and 28th. With the support of the City of Toronto, the Canadian Tamil Congress will be closing down Markham Road between McNicoll Avenue and Passmore Avenue for an expose of cultural food, artistic talents and traditional activities.
With over 100 performers of traditional Tamil music and dancing, as well as dozens of food and drink vendors, it is going to be a great time for people of all ages. You can find more details about the festival by visiting www.tamilfest.ca. We're looking forward to seeing you there!
Community Involvement
Take a look at where else we've been, and what we are doing around the Toronto, Scarborough and Markham communities:
Metro Toronto Police Picnic
Formula Honda's TamilFest
Partnership with St Barnabas Parish
Brave T.O Obstacle Courage Challenge
Ladies Night Out
Honda Canada is involved in many events as well. Take a look to see where they have been this year.
Honda Canada & Make A Wish Foundation
Honda Indy Toronto Races
Honda Canada & The Ontario Science Centre
Honda Canada & The Baby Time Show
Roll Up The Rim to Win
<c/enter>